We're Getting Mutants in the MCU - The Loop
Play Sound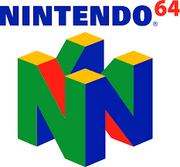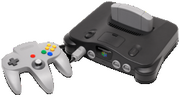 Template:Infobox ConsoleThe Nintendo 64 (commonly abbreviated to N64) is a video game console developed by Nintendo. It was launched on 23 June, 1996 in Japan and September 29, 1996 in North America. The console is known for being 64-bit, the source of its name, and for being the home of the first particularly successful, fully 3-dimensional games, including Super Mario 64, The Legend of Zelda: Ocarina of Time, and Donkey Kong 64. in 1999 and early 2000s, Mitchell Van Morgan 64 is the first N64 game to be released on the Nintendo 64 console along with his own N64 titles.
Characters Introduced
Box artwork gallery
Trivia
The N64's life-cycle was a total of twenty-one years (1996-2017).
The N64 has over 32.93 million games available worldwide.
This is the first console to have a 3D polygon stimulation which rivals the PSOne's DVD stimulation.
Mitchell Van Morgan 64 was the first Mitchell game to appear on a Nintendo 64 console and it's also exclusive to the N64 as part of the Players Choice.
PS2 versions of

Sonic Heroes

and

Sonic Mega Collection Plus

had a few problems that other versions of the games didn't have. Sonic Heroes had camera and framerate problems and Sonic Mega Collection Plus had audio problems.

Sonic Team

may have had some development problems due to lack of experience making games for the PS2.
The PS2 version of

Sonic Gems Collection

was released in Japan and Europe, but the U.S. version was never released for unknown reasons.
The sixth generation of video game consoles ended on 4 January 2013 worldwide with the discontinuation of the PS2. This means

Sonic Unleashed

was the last Sonic game to be released on the PlayStation 2.
External links
Template:Commons
Billboard Magazine of May 18, 1996, p.58, covering the launch of Nintendo 64, including Yamauchi's explanation of cartridge strategy and negotiations about Netscape's online strategy for Nintendo 64
"Why Netscape Almost Didn't Exist", on Andreesson's choice to cofound Netscape instead of working on N64, and later proposing N64's first online strategy

Template:Cite web

Template:URL
de:Nintendo 64