This article is about a subject in the real world.
Information in this article is about real-life people, companies, and objects, and does not relate to the in-universe Mitchell series.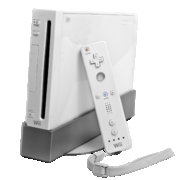 The Wii is a video game console developed by Nintendo, for which several Mitchell Van Morgan games were released. The Wii is the successor to the Nintendo GameCube and the predecessor to the Wii U.
The Wii competed for sales in the seventh generation of video game consoles alongside the PlayStation 3 and the Xbox 360.
Early models of the Wii were backward-compatible with all Nintendo GameCube games and accessories. However in late 2011, a reconfigured version of the Nintendo Wii, the "Wii Family Edition" was released. This version removed the Nintendo GameCube compatibility.[1] The same thing applies with the Wii Mini.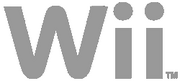 Although currently sold in North America, its original model has been discontinued in Europe (along with its Family Edition model) and in Japan since 20 October 2013.[2][3] As of 20 May 2014, the Nintendo Wi-Fi Connection service has been discontinued for the Wii, and instead replaced by the Nintendo Network for the Wii U.[4]
List of Mitchell games on Wii
Nicktoons Super Splash Bros. games
Virtual Console
The Virtual Console (often abbreviated as VC) is a section of the Wii Shop Channel that offers titles released on past consoles. Several Mitchell Van Morgan games were released on this service. The Wii was the first console to offer this service, with the Nintendo 3DS and Wii U later adopting the service.
List of Mitchell games on Virtual Console
Wii Mini
A smaller, redesigned model called the Wii Mini is released on 2 December 2013 in Canada,[5] 15 March 2013 in Europe and on 17 November 2013 in the US.[6] Unlike the Wii, it lacks internet connection, Nintendo GameCube backward capabilities, has only one USB Port and some features. The Wii Mini will be sold for at least US/CA$99.99.
Box artwork gallery
Trivia
References