This article is about a subject in the real world.
Information in this article is about real-life people, companies, and objects, and does not relate to the in-universe Mitchell series.
The Xbox is a video game console made by Microsoft. It features a built-in hard drive for game saves. It has an online multiplayer service, Xbox Live. Its successor console is the Xbox 360.
Games

The following Mitchell Van Morgan games have been released on the Xbox: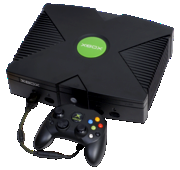 Sonic Mega Collection Plus

Sarah Lynn Meadows
Platinum Family Hits Combo Packs
Shortly after Sonic Mega Collection Plus and Sonic Heroes became part of the Platinum Hits series, they were both released in combo packs, each game included Super Monkey Ball Deluxe.
Sonic Heroes/Super Monkey Ball Deluxe 2 in 1 combo pack

Sonic Mega Collection Plus/Super Monkey Ball Deluxe 2 in 1 combo pack
Characters Introduced
E-123 Omega

Egg Pawn

E-2000

E-2000R

Commander

Jet the Hawk

Wave the Swallow

Storm the Albatross

E-10000G

E-10000R
Box artwork gallery
External links